Who wouldn't want to live in a stunning home? Living in a beautiful home provides residents with the happiness and relaxation they desire. Every home should give its residents relaxation and peace because after all, that is the purpose of the house. Home improvement can help you get this relaxation by upgrading your home and making it more beautiful. Every year these trends change and bring something more attractive. If you are planning to have a home renovation this year then this blog is for you. 
Everyone dreams of living in a beautiful home where they find the comfort they always wanted. A well made beautiful home will impress your guests. This new year will bring its own happiness and joy into this world. Homeowners can impress their guests by following new stunning home improvement trends. Find the best home improvement contractors and discuss with them what is best for your house.
1. Bright White Kitchen
White kitchens have always been popular among homeowners. Their delighted color makes the kitchen look more classy. Bright White Kitchen has always been popular in Cape Cod. Even year after year, this trend did not die. And this is why we can expect to see this tradition follow among homeowners. 
Compliment your bright white kitchen with other colors such as black, brown, and wood color which will improve the kitchen look. Add some natural color to your kitchen to make it more appealing. This color's simplicity provides your kitchen with an elegant appeal that is ideal for beachfront homes and Cape Cod homes. The cost of Cape Cod Kitchen remodeling is one thing you should consider before moving further.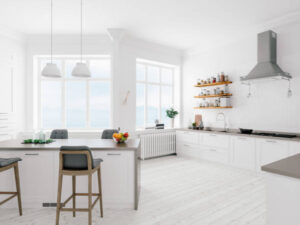 2. Get Warm with Warm Colors
Recently we have noticed an increase in the demand for warm colors. Warm colors like gray, brown, and yellow were significantly more popular than bright colors, whether they were used to paint walls or furniture. And let's face it, these colors really provide a calming atmosphere and an attractive appearance.
Giving your house that warm feel can easily be done by painting your walls with warm brown or yellow colors. Add furniture and sheets with warm brown, yellow, light tone red, and green. A coffee table in the corner of the living room can create an elegant look for your house. 
3. Light Tone Bathroom Remodeling
Bathrooms are one of the most popular remodeling parts of the house.  Even while you might not spend much time there, some people use it as a place to disconnect and find peace. Warm and white tones are currently in style, as we have already discussed, and bathrooms are no exception. Bathroom remodeling is also following this trend and the results are amazing. 
However, not everyone can be a fan of the white color and may find it boring. This is why warm colors can lift up the mood by providing a relaxing atmosphere. Remodel the bathroom in a more luxurious way by adding gray soft tiles and paint the walls with a color that suits best it. Make it like a spa where you find a relaxing environment. 
4. More Windows More Light
If your house is located in a beautiful spot then take full advantage to see the view from your house. Install large windows so you can take in the breathtaking scenery outside. Having a big window does not have a single advantage. Natural light has a big positive impact on the human mind. With a relaxing mood, it provides light to your house. 
It does not only allow you to look at the beauty outside but makes your home elegant from the inside. They come in numerous styles and designs which can impact the attractiveness of your house. Big windows are in fashion and they can contribute much to the attractiveness of your house. If you are a resident of Cape Cod and have a home close to the beach then you must install big windows to take in the beautiful view. Contact your contractor and discuss what window installations are best for your home.
5. Asphalt Shingles Roofing
Beautiful roofing can enhance the attractiveness of your house from the outside. But the purpose of house roofing is protection more than beauty. Roofing should be strong enough to protect the house from any weather. It should hold in during rain, heat, wind, and snow. Asphalt Shingles Roofing is a popular American roofing that has been very popular for decades.
A roof is a common option among homeowners due to its durability in all weather conditions. To find out if this roofing is the best option for your home, speak with your Cape Cod roofing contractor.
6. Home Additions
According to the most recent studies, home additions have been demonstrated to be a significant element in raising ROI for home selling. Houses with more space appear to be more appealing to buyers. Who doesn't like it more, after all? This is a good option to choose if you're remodeling a house to sell it.
Dream Home Improvement has the expertise in providing the best home addition services in Cape Cod. These features provide you with more space to utilize for your activities or hobbies. 
Best Home Improvement Services in Cape Cod
The Cape Cod company Dream Home Improvement LLC offers a full range of home repair services. We provide remodeling services for kitchens, bathrooms, and basements.
To get started on your home remodeling project, get in touch with us. You may also call us at 774-208-3589 to arrange for a free in-home consultation. Our professionals will demonstrate the most recent techniques in kitchen remodeling that can dramatically transform the appearance of your kitchen. Increase the value of your home and safeguard your investment.