The kitchen is like the heart of a house as it's the place where all family members get together and bond. Catering this kitchen is what matters the most. Investing in it never tends to disappoint you but everyone has a certain budget and effectively utilizing it is the task on our hands. So in this article, we will tell you some kitchen remodel ideas on a budget so you can have an exquisite kitchen with a little investment.
When it comes to remodeling the kitchen, our team of experts keeps every little detail in mind to get its perfect shape. We ensure that your kitchen is both functional and aesthetically pleasing, as well as conforming to current trends.
Here we bring you some ideas that may help you make your dream come true. 
Small Kitchen Remodeling Ideas
Having a dream kitchen doesn't demand a wide space. you can have it even in a cube. All you need is to get smart enough to balance practical spacing with aesthetics. Here are some cost-effective remodeling ideas that will get you the kitchen you want.
Addition of preparation area (Shelves)
We need to add a preparation area first of all as it's the essential requirement for a composite yet effective kitchen. The preparation area can be utilized to set equipment and ingredients while cooking is in progress. Tables can work effectively to aid in this problem.
Making the most of your countertops is key to a functional kitchen; it offers a place to cook, wash and dine all in one. That looks quite good.
Organization of cupboards
The organization of cupboards plays a vital role in the accessibility of kitchen equipment. If the cupboards are arranged all desired items can be found swiftly making sure no extra time is consumed. The organization of cupboards also aids in maximizing the storage capacity so more things can be kept in a lesser space.
Installing drawers and Brackets 
Drawers can be added inside the cabinets. Cabinet drawers are simple to mount and make accessing your collection of lids, pans, and Tupperware much easier. This option is also much less expensive than having custom cabinetry made. Drawers also tend to give asymmetry to the kitchen making the kitchen look ideal. In short, Partition shall be done in cupboards using brackets so more space is available to place things.
Opt to Deep sinks
Deep sinks should be used as they have more depth hence increasing the number of dishes, they can conceal making the kitchen look a lot tidier as well as open cabinets can help maintain a fresh look.
Choosing the appropriate color palette 
The kitchen should be painted in light colors, with white being the best option because it makes the space appear larger and brighter. Alternatively, you can paint it any color you like or match it to the color of other areas of your house.
Hard-wearing surfaces
Hard-wearing surfaces should be used as they tend to give more durability and long lasted effectiveness, hence being cost-effective.
Tiles with different patterns can be used to equip the kitchen floor making it look elegant and exquisite.
Let the lighting do the trick
Your small kitchen, like any other space, requires a mix of the role and ambient lighting. In many kitchens, fluorescent lighting is used, which casts a bluish light that affects the colorization of items in the room. Consider hanging pendant lights that bathe your dining area in a more appetizing color to offset it.
Some aesthetics?
Refrigerators should be placed outside the kitchen or if needed to be placed in the kitchen should be decorated with some artificial ornaments.

One more effective idea is of hanging ur mugs. It frees space in the cupboards and also gives an aesthetic touch to your kitchen. Mug trees can be fixed on the top of the counter.

Warm accents, such as a good rug, can help make a small kitchen feel more like a cohesive space, particularly if you have a one-wall kitchen that isn't its room.

Mirrors can be used in small spaces especially small kitchens where there is less light around. Mirrors tend to bounce light hence brightening the kitchen making it look bigger.
Don't forget the natural and artistic touch!
Artwork and greenery should be added to your kitchen as your kitchen deserves all the decoration it can get. Adding art that is appropriate for your room and style is an easy but successful way to improve the look of your kitchen. Plants can liven up any space, including your kitchen giving it a natural vibe and freshen up the environment. 
DIY Kitchen Remodel
One of the most common and significant home upgrades is a kitchen remodel. Aside from the cost-effectiveness, it's a lot of fun, and the result is so rewarding that it makes all the effort worthwhile. There are several, kitchen remodel ideas on a budget, that you can choose from for your kitchen!
All kitchen parts can be used in the DIY kit hen model, from painting to redesigning. If not done correctly, a kitchen renovation can also be challenging. You can always hire the best home remodeling company in Cape Cod to avoid this issue(i.e. us :p)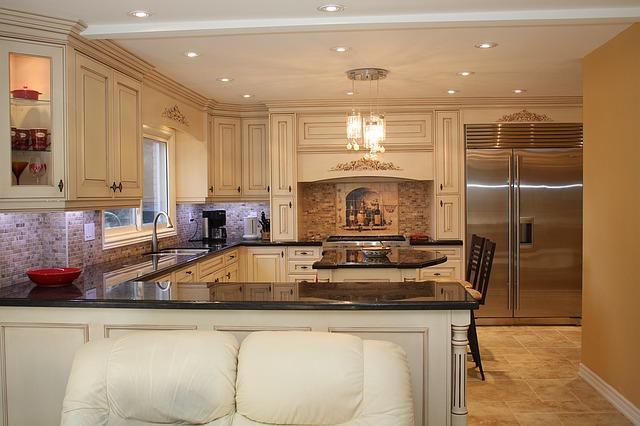 Steps For Remodeling Of The Kitchen
Kith remodeling is not done with a swirl of the magic wand. It requires a series of steps done. So, let's look at some of the measures involved in kitchen remodeling.
The Plan For The Remodelling of your Kitchen
The plan should consist of all the things to be done including the placement of all kitchen equipment, shelf, stove, refrigerator, and all other things. The structure should not be much altered as then previous electricity and sanitary systems can be used. Professional plans would yield ineffective results and they would also be cost-effectively minimizing the headaches which come along with the procedure of remodeling.
Arrangement of all the Required Things, Appliances, Equipment
When the plan is complete after thorough research and mutual understanding, important stuff like appliances, cabinets, tiles and all the other necessary stuff needs to be ordered and kept in a safe place until the time arrives for the installation. Beforehand ordering of all the required things would yield less time being consumed at that particular moment so the process would go on without any disruption. Important considerations should always be kept in mind, such as what improvements should be made if you don't have a budget for any enhancements right now but expect to get them when you do.
Lighting changes can be avoided if you are comfortable with the previously installed lights. Certain more elements need to be kept in mind as the floor height compared to the cabinets and also the color scheme matching all depending on what is your plan regarding your remodeling. 

Material of the cupboards and all the other stuff should be decided beforehand and multiple factors should be kept in notice regarding the cost-effectiveness and durability of that particular substance
Electrical work, plumbing, flooring
This is one of the most important steps of remodeling where all the things are torn apart, new lines are being created and new connections have been given. This part is very crucial as the floor level is being set new spaces for cabinets, and appliances are being created. During this process, it is highly advised that u remove all the appliances and equipment's from the kitchen and place them somewhere safe and keep in contact with the constructor as it's the essence of your remodeling.
Painting the kitchen
Paint plays an unimaginable role in changing the entire look of the kitchen. It not only gives a new life to the walls but it also tends to match with all the cabinets and stuff in the kitchen making the kitchen look quite exquisite. Painting the new walls with light color tends to make the kitchen brighter and bigger as light reflects in it. Many surveys done by people show with some quite bright numbers that paint tends to do wonders changing the kitchen's overall look.
Installation of the appliances and equipment
If as stated earlier all the things to be pre-ordered before the installation has arrived on time this act should be done in no time. After all the necessary things have been done, the installation of equipment comes into play. All the things need to be done according to the plan agreed upon before the starting of remodeling and finishing of it. The installation process would nearly be the end of our journey. 
How can I renovate my Kitchen Cheaply?
Every person dreams to have that perfect home and as we all know the kitchen is the epicenter of our home. Over time all things tend to get worn out as everything has a timeline after which it starts to decline. Renovation is a tough job but it also tends to get a lot expensive.
 if you want a better kitchen but don't want to spend thousands of dollars on it, well, fear no more!  Hundreds of small and inexpensive improvements can make your kitchen brighter, more organized, and better overall if you look hard enough.
5 Cheap But Worth It Upgrades To Your Kitchen To Give You A Worthwhile Change
But which low-cost fixes would have the strongest effect? That's the topic we're going to take care of today! So here we are with some great  kitchen remodel ideas on a budget as the answer to this question:
Updating of kitchen cabinets
Updating of kitchen cabinets necessarily doesn't mean to just take them down, start from scratch and make new cabinets costing you thousands of dollars while your old ones are in quite a good shape but just need to be tweaked especially if they are made out of pure wood some simple steps would make them way modern and better looking compared to their old form. 
Lamination sheets can be applied to cover the cabinets as well as giving them a brand-new touch. 

Cabinet knobs can be replaced as well to give them a completely new look. No one would be able to recognize them after the change. 

If you are not a fan of lamination sheets, a paint job is your thing If stained natural wood isn't the look you prefer, then sand the cabinets and paint them in your favorite and most suitable color.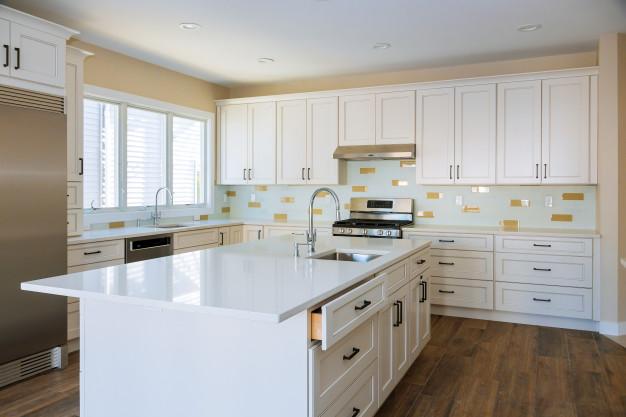 Buying economical countertops
Although new upscale countertops are an unavoidable part of most complete kitchen remodels, you can easily save money by shopping around. You can easily get new ones rather than remodeling old tops. This will enhance your experience in your kitchen, even more, giving you a vibe that you are standing in just a newly made kitchen.
Doing some change to the lighting 
The brightness and welcoming feel of a kitchen are greatly influenced by the lights and light switches. That's why, as a general rule, warm lighting is better in kitchens compared to other lightings. Shopping for new lights and equipment related to lighting is quite easy and can be also done online. You can confirm the prices by viewing multiple websites to get the best thing at the best price.
 The switches and electricity boards should be changed according to the kitchen design. Nowadays multiple switch systems have been introduced in which the switches tend to change their color with the lighting in the room. Lights would change according to the atmosphere sensors near them who would judge multiple things like how many people are there and is it a gathering or not coordinating to the environment.
Update the scene with new curtains and paint
Painting is not only a cost-effective way to make a big, bold change in your room, but you can probably do it yourself as well. You will save even more money by doing the majority of the grunt work for your paint job.
Curtains may also make a significant difference, according to Wingfield. "It's necessary to change your kitchen curtains from time to time as they absorb all smells and smoke" Upgrading them and matching them to the colors in the kitchen will make it feel like a new room.
Buying new appliances but not from so expensive brands 
Appliances are a necessity compared to many other elements in the kitchen, they are required to get through the essential work of the kitchen. When remodeling your kitchen new appliances always can give your kitchen a brand-new look but as we all know appliances are not so cheap and they can easily make our budget go south. 
To achieve both the new appliances and an effective budget we need to do homework thoroughly and think about what exactly do we need regarding our appliances and then choose them and try to buy them in sales and from brands which don't tend to just overprice their stuff keeping it simple. This will quite do the trick.
Can you Remodel a Kitchen for $5000?
The answer to this question is yes but first, we need to find what exactly does our kitchen requires to get remodeled. Sometimes the most important things are the ones which we don't think of much importance. The analysis of what exactly needs to be changed in achieving the whole new experience is quite important.
To achieve a remodeling appearance and that too under $5000 is tough but still possible. What we need to do is try to buy things that are a little aged out or mismatched in other people's homes but are perfect for our needs. Let's see some more kitchen remodel ideas on a budget.
Self Labour needs to be employed to cut down the Labour cost so the rest of the budget can be used adequately for other things. 

The paint again as even stated above is one of the most important elements Because the paint is gonna set the tone for your new kitchen even if u have a budget of $5000

. 

 Sinks should be replaced. The reason is this gets noticed in the first look. Also, replace backsplashes, which aren't required, but if you really want one, avoid tile. At the very least, if you're trying to keep under $5,000 and don't have enough money to buy all the tile and supplies you'll need. Choose shiplap or an aluminum sheet instead (I know, it sounds strange, but those stainless steel/aluminum sheets are a great choice for a modern kitchen).
What is the Most Expensive Part of a kitchen remodel?
After you finally decide to upgrade your kitchen. The process starts by including many important elements. The most important thing during the upgrade is calculating the number of expenses and making a budget. Do this to make sure that reviews are read online. As well as advice gets taken from people who underwent a process similar to this. 
A well-designed kitchen is one of the most beneficial remodels you can create. Keep in mind you want to improve the ambiance and value of your home.
 The question that arises again is how much the remodeling cost and the most expensive procedure in it. Before we get into the specifics, let's take a look at the overall cost of a remodeling project.
Remodeling project costing
For a kitchen that's about 10×10, the average cost comes to approximately $15,000 to $30,000. However, the cost of your specific kitchen remodeling project depends on a variety of factors. Do you like marble or granite countertops? Do you want new appliances and custom cabinets? Your cost can be lower or higher than the average, depending on what you select.
you might be surprised by knowing the expensive part of kitsch remodeling. But you need to know my friend! It's not just about the high-tech, gleaming stainless steel appliances. It's the cupboards!
How Cabinets are the most expensive Part of Remodeling? 
But how can cupboards be the most expensive part of kitchen modeling? The simple answer is the scale. Cabinets take up a large portion of your kitchen area, but there is also a complicated answer.
Cabinets are often overshadowed by other shinier and more enticing elements of the kitchen for many of us. When it comes to a remodeling budget and project, however, they are extremely important. Cabinets will cost about $15,000 on average. Cabinets are also one of the most important aspects of your kitchen; they are needed to create a functional space and are obviously necessary for storage. This is why they are the most costly component of your kitchen remodel. Every component, from the material to the paint and labor, contributes to the overall cost of your cabinetry. Many cabinets are made-to-order, which may increase the price.
Now you know most of the kitchen remodel ideas on a budget you can go for. But kitchen remodeling is not a one-man job plus finding a trustable and authentic company is no cakewalk. Well, here jumps the Dream House Improvement! We provide you with the best kitchen remodeling services in Cape Cod. 
The main aim of our company is to make your dream home a reality. We respect your time and money and our talented team is committed to meeting your needs. Our experience of 20 years in serving Cape Cod with the latest design home renovation skills gives us an edge over our competitors. Our home design is ideal in both practical and aesthetic ways.
Let's Connect
 We work on all types of home design and remodeling projects. Furthermore, no more waiting for eternity. We are only a call away to assist you I your kitchen remodeling. Customer loyalty is our top priority. Our clients have sent us positive feedback, demonstrating our credibility. Call us now at 774-208-3589.
We are proud of what we do and will never settle for less. Without a doubt, the quality is excellent. So, hire us whenever you feel like renovating your kitchen or any part of your house. Get the dream kitchen remodeling you deserve. Schedule your meeting right away.