A well-made deck can add a luxurious & aesthetic look to the exterior of your home. It boosts the value of your property and provides a bit extra space to host parties and family get together. So, if you have made up your mind to build a deck, there will surely be many different styles that will come to your mind. As you plan your dream deck, one of the biggest hurdles you can face is what type of decking to choose from. Two of the most common options are wood and composite decking. Whether you plan to do the job yourself or hire the best wood or composite decking contractor. 
At first, the thing to know about selecting the material of a deck is that. Treated lumber is usually used to make the framing of most decks. This is the structural part of the deck that is unseen unless you are beneath it. So the main decision only revolves around selecting the materials that will make up the decking surface and railings. I'll walk you through the main differences to help you choose the right material for your deck.
Wood Decking Options
There is a variety of wood species that are available in the market that can use as the base material for decking and railing. The common options you can find in the local community of Cape Cod, including cedar, redwood, and pressure-treated pine lumber. The homeowners that are interested in luxuries wood species. They can go with the option of tropical hardwood decking including tigerwood and mahogany.
Composite Decking Options
Invented in the late 1980s, wood-plastic composite decking also known as "composite wood decking" is made of wood fibers coated in plastic. Composite decking is a readily available option for decking and more builders & homeowners keep learning about wood decking problems. It is somehow the new trend to have a high-performance composite decking.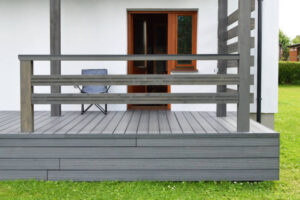 Wood VS Composite Decking 
Many property owners choose wood decking because it is common, easily available, and affordable. Simultaneously, wood decking issues like splinters, rot, and high maintenance cost cause many problems.  Whereas composite decking is easier to maintain. The only issue is that some homeowners think that composites won't look as appealing as wood. This issue is also no more as advanced manufacturing has made composites that emulate the rich look. You can get the natural look of wood without the stress of maintaining a wood deck. 
When deciding among wood and composite decking, here are key issues to consider:
Looks & Workability
While old-schooled composite decking is likely to look artificial and plastic-y. The manufacturing has advanced and some modern composites are available with a multicolored attractive appearance. You also get these in randomized embossed grain patterns. So when it comes to looks you can have composites that can accurately resemble wood deck boards.
Both wood and composites are easy to cut and fasten using traditional tools that are available in every home. The area where composites appear to come ahead is they can easily be bent to form curved deck sections.
Moisture
The bigger issue of wood decking is that; wood boards absorb water. So, it is hard to keep them up to date without the regular preservation of stains, sealers, or paint. Improper checking can lead wood decking to be susceptible to bending, cracking, and rotting. In comparison, composite decking is made fully moisture-resistant to the core, which allows them to be installed in high moisture conditions without cracking or rotting.
Maintenance
Wood decks require time to time maintenance. Simply, to increase the life of a wood deck, you need to regularly paint or seal the decking to defend against damages. Composites, in the contrast, only require sweeping or washing to make the boards look fresh and lively. So, if you have made up your mind to have composite decking, you can rely on the expertise of Dream Home Improvement as our year of experience in the decking industry has made us one of the best composite decking contractors in Cape Cod.
Insect Damage
The issue of wood decking to prone to damage from termites and other wood-destroying insects. So, in that case, composite decking can be considered better. Unlike, common wood decking, composite decking is a well-manufactured product. It is made by combining recycled plastic and wood to offer a wide range of durability benefits. These abilities allow them to last longer than wood decking and are less prone to splintering; resistant to mold, rot, and decay.
Splinters
Splinter decks usually occurred as the result of negligence when a deck remains untreated and unsealed for a long time. The lack of protection allows water to soak into the boards, causing them to eventually splinter and crack. On the other hand, composite decking is made with small wood fibers coated in plastic, so it won't splinter. This is especially helpful for walking on the deck barefoot, and for children and pets, whose feet are sensitive.
Price
Affordability is the only reason that enforce many homeowners to go with the option of the wooden deck. As some people consider price as the deciding factor. Normally, wood decking is lower in cost than composites. However, even if the initial cost of wood is a lesser amount, composite decking usually ends up paying for itself within the first 2-3 years. For this, simply calculate the cost of annual maintenance. The price difference is also based on the wood type chosen versus the quality of composite decking, and local market conditions.
Some Pros of Composite Decking
They required less maintenance. Customers must decide if the look and feel of natural wood are enough for them. Because surely, over time woodwork will go into periodic staining, painting, and sections will begin to decay. 

Composites come in a different range of colors. So like basic wood, composites don't need to be painted or stained to match the contrast of your home's exterior. 

You can use recycled materials. Some composite companies are using recycled materials. This means your synthetic deck can be environmentally friendly.

The technology is improving. Some manufacturers now produce decking with a hard plastic shell combined with composite boards to improve durability. This advancement makes the surface less prone to staining, fading, scratching, and mold.
The Best Composite Decking Contractor
To make it easier, you should cut through the numerous choices. it is useful to understand which wood decking you will prefer the most then compare that to your favorite composite decking. Thus, in place of having multiple options in your head, your decision becomes simpler. It can be anything; cedar vs. composite, redwood vs. composite, or treated lumber vs. composite.
If you want a  local deck builder for building your home deck project, a brand new Cape Cod style house addition or renovation and you are searching for the best composite decking contractor. Dream Home Improvement LLC can take care of it all in Cape Cod, so contact us anytime for the best services.