Replacing your home's roof is a big task but it is eventually one of the best investments you can make for your home. The modern-day roofing designs not only look attractive but they're also designed to last for years to come. As you prepare for your home's new roof installation, there are numerous things you can do to make sure the job is completed as smoothly as possible.
Here are 8 tips to keep in mind before the best roofing company in your town arrives at your location.
1.   Do Your Home Roofing and Remodeling Assessment
Replacing a roof is a considerable investment. Once you've made up your mind it's time for a new roof. It's vital to select the best roofing company in Cape Cod that will deliver outstanding work, high-quality materials, and expertise.  As you begin the process of hiring or taking quotes from the local roof repair contractors. We recommend spending some time to get complete knowledge about your roofing project. "You have to know the measurements of your roof and have an idea about the number of materials you'll need."
Moreover, you can also use a free roofing calculator to calculate your roof's surface area. This includes the pitch of the roof, the number of roof supports, and even the number of sheeting boards you'll probably need for your project. With having a firm idea about your roofing project. There will be fewer chances to underestimate the total cost of installing your new roof.
Once you have an estimated budget in hand to work with, a skilled local roof repair contractor will help you stick to it. A company with expert roofing professionals will almost spend equal time planning your installation as much as they are required to install the roof. At Dream Home Improvement, we assign home roofing experts both an in-office and on-site association to every project. Before the first hammer hits on your roof, we know exactly how the job will proceed and be completed. This means you will always have a person to contact who can answer and provide guidance for your satisfaction.
2.   Make Sure the Roofing Company Has Access to Your Roof
This is probably the most obvious thing that the roofers will need, access to your roof to complete the job. A professional roofing company will give its best to do the work as neatly as possible. However, tearing off an old roof and installing a new one is an enormous task. It requires an additional space from the boundaries of your home. To protect these outdoor items from debris and make sure the roofers can work as proficiently. The best method is to clear sideways and driveways before the workers arrive at your location.
If possible, move your cars and other vehicles away from your driveway. This ensures that your cars, children's toys, and other kinds of stuff will be safe from any debris or dust falling from the roof. Likewise, if you have patio furniture, lattices, or other items near the house, it will be better to move them into the garage or cover them with a sheet of plastic or tarp, while your roof is being installed.
3. Remove Valuables from the Attic
The roofing experts will put all their efforts to minimize the dust and debris produced during your roof's installation. But somehow no one can neglect the fact that roofing is a messy, dusty job. While storing your valuables in your attic, consider moving these items to a safe spot until the installation is complete. In case some items are too bulky or hefty to move, try covering them with a plastic sheet to protect them from dirt and shingle dust remains.
4.   Make Arrangements for Children and Pets
Loud noises may increase anxiety or disturb sleep patterns and also these work zones are extremely dangerous for kids and pets. Talk to your kid and limit them to certain areas. In case you have pets or young children; they might not understand these dangers. You should need to make arrangements for them like staying with a friend or family member nearby while your new roof is being installed. The construction that takes place while the course of a roof tear-off and installation can be extremely noisy and can disturb pets and small kids. As these construction tools and materials can also pose a hazard to children, it is better to keep your kids indoors while the worker is on-site.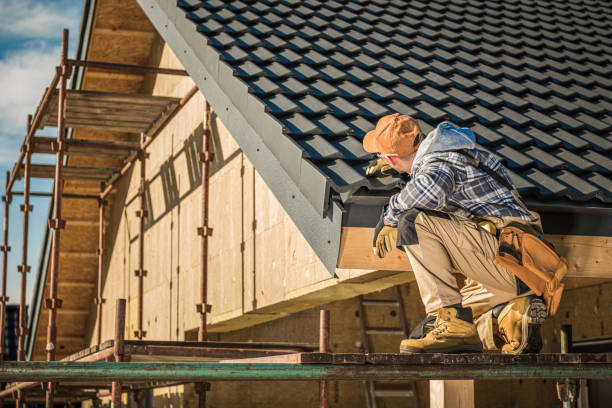 5.   Be a Good Neighbor
Let your neighbors know your working schedule. This small act of courtesy can go a long way, especially if they have pets or children who might get distressed by the noise that certainly will occur during installation. This will give them the chance to adjust according to your situation. There are also possible chances that your neighbors will be as excited as you to see your new roof installations. Major outdoor modernizations such as installing a new roof not only boost your home's value, but also the value of properties nearby. Before the roofers get started, however, it's a good idea to give your neighbors a heads up that you're replacing your roof.
6.   Remove Wall Decorations                                                
Even if skillful roofers try their best to keep dust and noise to a minimum during the process of new roof installation. Somehow, this heavy kind of construction on your home's structure can cause heavy striking vibrations that can even shake mirrors and frames on the walls. You obviously wanted to save your frame family photos and luxury mirrors from mirrors. The best practice for this is to temporarily remove these wall-hanging items during roof installation. Moreover don't forget to remove any glass sconces on light fixtures on the upper floors of the walls.
7.   Prep the Outside
Installing a new roof includes nailing down hundreds of shingles. As an owner of the house, the last thing you don't want to experience is a flat tire caused by these roofing nails. These scenarios can be even worse if you step on a roofing nail with your bare feet. Professional roofing contractors implement a complete clean-up once the project is finished. This is done by using powerful magnets or special rolling tools manufactured to pick up nails. The action required by you before roofing installation is to cut grass to a short length. Because nails can easily disappear when they fall into the long grass.
If your satellite is placed on your roof, you should call your cable provider to move it temporally while your roof is being installed. In case you have beautiful-looking flowerbeds or landscaping around your home, the best idea to protect them is by covering them with tarps or plastic cover. You should also remove any hanging plants during the process of new roof installation.
8.   Work with Best Roofing Company in Cape Cod
One of the best ways to get ready for your home's new roof installation is to choose the best local roof repair contractors. The best roofing company in Cape Cod will have a track record of superior customer satisfaction. They will ensure that your roof is installed properly and that any fundamental damage is addressed and repaired. Although installing a new roof is a major outdoor home renovation. Working with a contractor familiar with local trends will make the process easy and hassle-free.
Dream Home Improvement makes sure the customer we serve has the best experience possible. Contact Us now to start working on your new roofing and remodeling project. You can also schedule a free in-home consultation by calling us at 774-208-3589. Our experts will show you the latest roofing trends that can completely update the look of your home. Boost the value of your property and protect your investment.