Extreme temperatures bring with them new challenges for homeowners and roof maintenance is one of them. It is much better to prepare for them beforehand, as care is better & much less expensive than cure.
We are swiftly moving towards the summer season and it is high time to prepare your roof to face the summertime heat. The longevity of your roof depends on how well you do the roof maintenance, and to avoid hefty repair costs you better have a roof maintenance plan.
If you don't have one yet, there is no need to panic. In this article, I will share 5 helpful tips for you to take care of your roof this summer. So, grab your pen and paper because it is time to take some notes.
Time To Clean The Gutters & Drain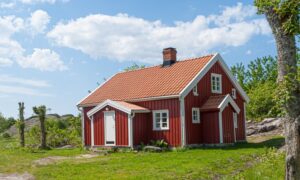 If your house is surrounded by trees, broken branches, tree leaves, and twigs can clog your drains and gutters. Even if you cleaned them last fall, you should definitely consider cleaning them before summer. This practice will help you avoid serious damages.
Inspect Skylight, Vents, Pipes, etc.
All these things should be inspected for cracks or leaks before the summer season begins. If you find any damages during your inspection, do not hesitate to get it repaired right away. It is all about increasing the lifespan of your roof, and timely repairs will help you achieve that objective.
Check For Missing or Broken Shingles
During the winter season, heavy snowfall or storms may damage the shingles on your roof. Carefully inspect the shingles for any kind of damage. If you find any damages during your inspection, do not hesitate to get it repaired right away. Replacing broken shingles on time will help you avoid deep damage to the roof.
Check The Ventilation
Make sure the ventilation in your attic is working well. Keeping your roof at the right temperature increases its lifespan and helps avoid damages. Otherwise, moisture can lead to rust, and then your roof may start to rot.
Mold Inspection (The secret tip to Roof Maintenance)
Molds grow much faster during the summer season and they wreak havoc on your roof. So, carefully inspect the roof for any signs of mold. If you find mold during your inspection, do not hesitate to get it repaired right away.
Sealant Inspection
Sealant works as a protective shield for your roof against moisture. However, if the sealant gets damaged, your roof will be at high risk. Make sure that the sealant is in good condition during your inspection.
Chimney Maintenance
No matter what season it is, you should regularly check your chimney for maintenance. If you find any damages during your inspection, do not hesitate to get it repaired right away. A damaged chimney will spill bricks onto your roof, which may cause expensive damage.
Regular inspection of your roof will help you identify any damage that may later prove to be very expensive. A timely diagnosis of an issue and roof maintenance will help you extend the lifespan of your roof, which will save you thousands of dollars. So, even if you have to spend a few hundred on repairs, you will still save lots of money in time.
Selecting A Roofing Contractor
In case you do find any damages, it is advised to hire an experienced and reliable roofing contractor to repair your roof.
Dream Home Improvement LLC is a leading brand in the roofing industry with over 15 years of experience in the field. We offer unparalleled roof maintenance services in Cape Cod. Our customers find us to be reliable and efficient, as we use superior technology and seasoned techniques to provide the best results. We offer a range of home improvement services to our customers.
If you choose us, we assure you that you will find our roof maintenance service to be economical, excellent & you will definitely want to hire our service again. We get the job done every time. Let's connect to help you take care of your roof and save thousands of dollars in roof damages.