American homeowners have a range of choices when it comes to roofing materials. All materials have their own pros and cons and are suitable for their intended purpose. Some are more durable than others, while some are most cost-effective. The question is; which roofing material is the best for you?
More than 70% of US homes have Asphalt shingles. 
Two of the most popular choices when it comes to roofing materials are;
Asphalt Shingles
Wood Shingles & Shakes
In this article, we will do a comprehensive asphalt roof vs wood roof comparison; the two very popular choices and see which roofing option is better for you. 
Asphalt Shingles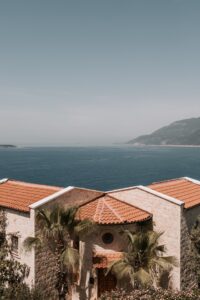 The standard asphalt three-tab shingle is commonly seen around American neighborhoods. From modest beginnings in 1893, the Asphalt industry has evolved into a billion-dollar industry in the current times due to its increased application. Asphalt rose to popularity by fulfilling the requirement of an affordable fire-resistant roofing material option. Asphalt shingles are used in commercial and residential construction. 
Let's take a deeper look into the benefits of Asphalt shingles and do a deep asphalt roof vs wood roof comparison.
Benefits of Asphalt Shingles
Fire Resistant
Asphalt shingles are fire resistant which is a major reason why they are such a popular choice among homeowners. 
Affordability
Asphalt shingles are highly economical and cost-effective as they continue to provide superb value in the long-run. There are many pricing options available in the market for Asphalt shingles. 
Aesthetically Pleasing
Asphalt shingles are available in a wide variety of beautiful and rich color options. You can get them in many textures and styles like wood, slate, cedar, and more. 
Recycle & Re-use
Asphalt shingles can be recycled after they have served their purpose as a roofing material. You can easily find a recycling service provider in a nearby metro market. After being recycled, Asphalt shingles are used for pavements which lower costs. 
Ease-of-Use
Asphalt shingles are much easier to install, as compared to other options. Moreover, they are much easier to repair, and the repairs won't cost you a fortune either. They require very low maintenance, and you will not need to install ice stops or any additional structure for supporting their weight. A lot of roofing contractors offer installation services for asphalt shingles, and supporting products are easily available. 
Great Performance
Asphalt roofs have a longer life expectancy, with a lower need for maintenance, and affordable repair costs. The weight of asphalt shingles is ideal. You will not face any major leaks, as it is highly durable. 
Drawbacks of Asphalt Shingles
Asphalt shingles may crack under extreme heat conditions. They may also lose their color over time if exposed to high temperatures for long periods of time. 

Below freezing temperatures are also not ideal for Asphalt shingles, as extremely cold weather will damage the shingles. 

Environment-friendliness is a major drawback for Asphalt shingles, as they are made from petroleum. 
Wood Shingles & Shakes 
    Probably the most American choice of roofing material, Wooden roofs were the go-to choice for homeowners for hundreds of years. The look of a house with a wooden roof has a certain appeal to it. 
Features
Wood offers a versatile option if you are into appearances. 

Wooden roofs are highly energy-efficient. 

Wooden shingles are available in different sizes for customized installation. 

Adds to your house value. 
Benefits of Wood Shingles & Shakes
The abundance of Style Options:

You get to choose from a variety of wooden hues and prints that adds a jaw-dropping aesthetic beauty to your house. 

Installation Options:

Wooden shingles and shakes can be installed in many ways. You can consult with your roofing contractor for the most suitable option.

 
Temperature Resistant:

Extreme temperature conditions do not affect a wooden roof, as much as other materials. This does not include humid conditions, however.

ROI:

Investing in a wooden roof is a great choice as it raises the value of your house in the real estate market. This fact is true for most states, although you can check with your local agent for confirmation. 

Eco-Friendly:

Wooden siding is environment friendly as it is not made of any harmful chemicals and no greenhouse gases or chemical waste is released into the environment due to its manufacturing. 

Long-Lasting:

A wooden roof, with proper care and maintenance, can last for as long as 40 years. 
Drawbacks of Wood Shingles & Shakes
Expensive:

Wood shingles and shakes are an expensive roofing material option, as compared to other materials.

Attracts Insects:

Wood is more prone to attacks from insects like termites and other bugs that can damage your roof.

High Maintenance:

Wooden roofs require a lot of maintenance regularly. You need to do proper cleaning and inspections at the end of every season, especially after winters. 

Highly Inflammable:

Wooden roofs are not fire-resistant at all. This is why these roofs are a huge fire hazard. 

Moisture Damage:

Moisture will damage your roof and cut down its lifespan. The wood will swell up, and corrode at a much faster rate. 
Asphalt Roof vs Wood Roof – Cost Analysis
According to current market prices the costs for these materials are;
Asphalt Shingle Roof: $5,100-$10,500

Wood Shingled Roof: $10,000-$16,250
The prices mentioned above include the installation charges and the cost of materials.
To get an accurate and free estimate of your Cape Cod house's roofing needs, you can freely contact us to get an asphalt roof vs wood roof cost for your home.
So, now the main question is…
Which roofing material is the best?
To be honest, it depends on several factors and your unique conditions. Here are some things you should consider when making a final decision:
What type of material is your current roof made of?
This is important to consider as your building structure is designed to handle a specific weight. If your roofing material is heavier than the capacity of the structure, you can end up in a lot of trouble. In such a case, consulting with a roofing contractor is the best option. 
What roofing material is commonly used in your neighborhood?
If you live in a homeowners association, you might need to stick with their requirements. If not, you can inspect the neighborhood to get a good idea of which material is the best fit according to your area. 
Are you looking to invest in the house's value?
If a lot of your roof is visible from the ground, you should consider investing in a higher-end material. Why? Because the look of your roof will impact the overall curb appeal and the value of your house will depend on this heavily. On the other hand, if the roof is not visible from the ground, you can easily choose to invest in the more affordable roofing material. 
Final Word
When it comes to the installation of a new roof, finding the right roofing contractor is just as important as finding the right roofing material. Dream Home Improvement LLC is a leading brand in the roofing industry with over 15 years of roofing experience. We are a team of goal-oriented people and we get the job done. Contact us now for a price quote.